Values and people are at the center of our business
Alfaroc Logistics is a company driven by its values, where human resource management and well-being of our employees have been the number one priority since the company was founded. Our community is like a family, where people and customers are taken care of, and communication between people is genuine, honest and appreciative. We also want each of our employees to be aware of how their work contributes to achieving the goals we set for our business.
In addition to efficient processes, an employee is at the center of our operations. Our management system was audited for the first time in 2019, and our company has been awarded ISO 9001 quality certificate, ISO 14001 environmental certificate and ISO 45001 occupational health and safety certificates.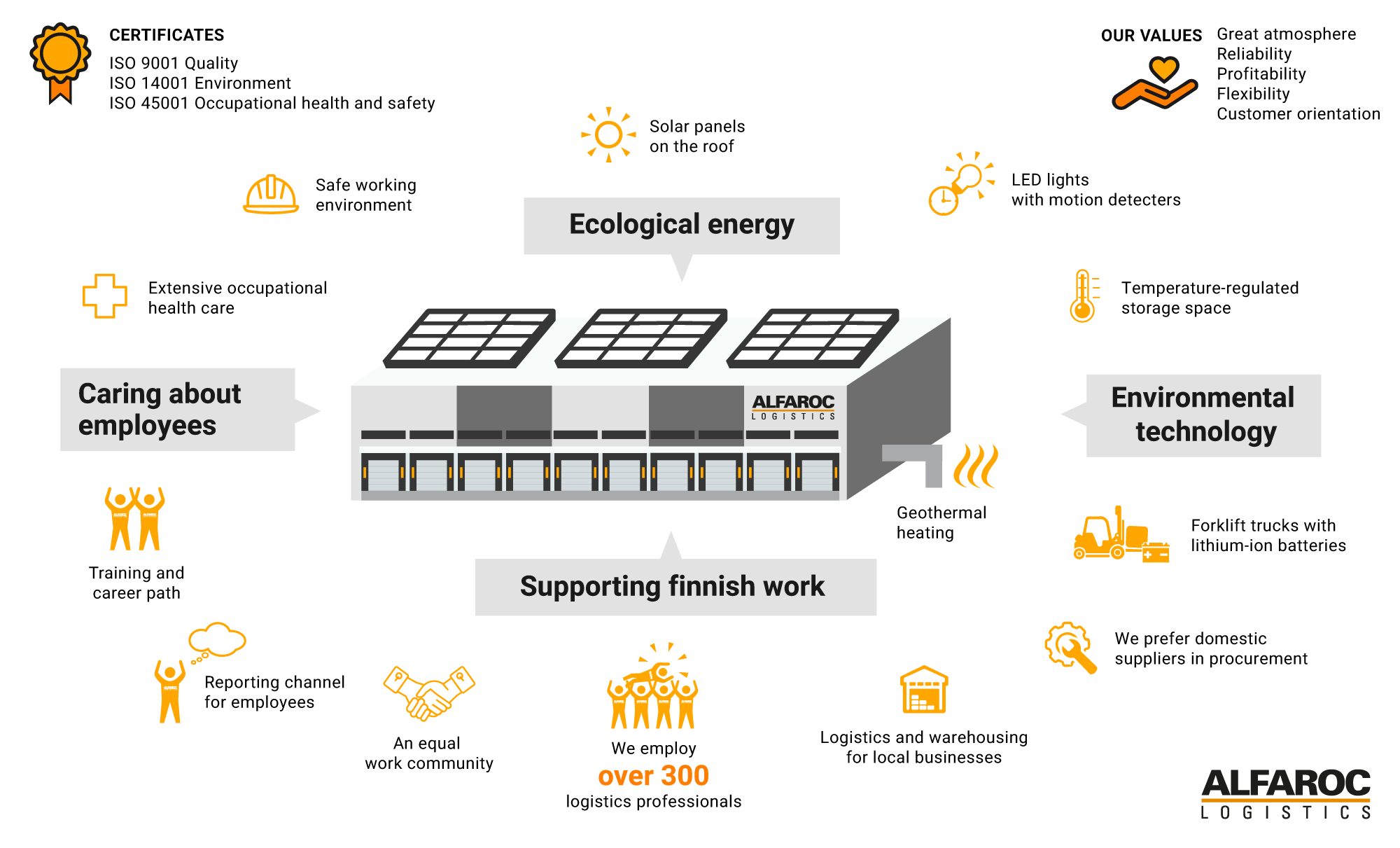 Our logistics center represents the most modern environmental technology
Reducing our carbon footprint and measures related to it are subjects that our customers are asking us at the offer request. We are aiming to continuously get better at this because the environmental issues interest not only us and our customers, but also our stakeholders.
Our biggest pride regarding environmental matters is our logistics center in Kujala, Lahti, which has been built using the most modern environmental technology. In practice, this means ecological energy solutions such as geothermal energy and solar panels. The storage space is also temperature-regulated, and our forklifts are utilizing energy-efficient lithium-ion battery technology.
We invest in the skills and training of our staff
With us you will have the opportunity to develop your skills surrounded by experienced logistics professionals. We encourage training and with us you have the opportunity to study to become a storage professional, for example through an apprenticeship. With us, a warehouse worker can become a manager-level expert – and that has happened!
We treat each other equally
The soul and spirit of our operations are born of people whose well-being is our priority. Social responsibility is a perfect example of how managerial responsibility is implemented in practice. Equality and fairness are extremely important to us, and we believe that this is one of the reasons why we have a good reputation as an employer.
The safety and well-being of our employees is our number one priority
We offer all our employees an extensive occupational health care and insure them not only during working hours but also with leisure-time accident insurance. We also have an electronic reporting channel that allows employees to report deviations and various types of feedback anonymously to the digital platform. These can be, for example, safety initiatives or close-call situations.
We employ and support Finnish work
Alfaroc Logistics is one of Finland's largest outsourcing service providers in in-house logistics and warehousing. We serve industrial and commercial companies, importers and online stores. We employ over 300 logistics experts. Kujala logistics center utilizes the latest technology in tools, and in our acquisition, we aim to support domestic suppliers to create work in Finland.
We use the latest environmental technology
Solar panels on the roof
Geothermal heating
(renewable energy)
LED lights with motion detectors
Temperature-regulated storage space